November 26th, 2011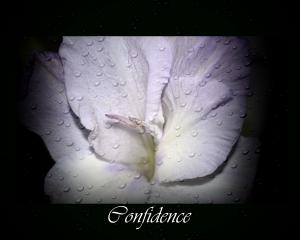 There are times when I am doing photography, that certain flowers remind me of an inspirational word or phrase. I will admit that I have a deep love for doing macro photography. I remember one time I was having a few photos enlarged and the lady behind the counter said, "I cannot believe these pictures, I actually see the tiny little hairs on the flowers!!"

I do A LOT of macro photography. There is something about being able to see the details of the textures. The soft tiny hairs on flowers or drops of rain sitting comfortably on the petals.

When I take a photo of a flower that reminds me of an inspirational word and/or phrase it is like making a deep connection with the flower on a completely different level. Almost like a spiritual connection (but again it could be from the enchanting smells of the flowers especially when you do macro photography and your nose is almost touching the flower). I took a picture of some bees on a plant one time and I swear the plant made them almost drunk or something; I suppose that is what happens when those special flowers come to me.

On these photos I do add a few special effects. I take the flower into another computer program and a vignette effect, water droplets and text. Since I have been doing this kind of picture, I suppose the vignette and water drops have become a personal signature of mine. Regardless, I believe the special effects adds that much more to the photo.

If you should decide to take a look at what I have posted so far, please look in my gallery for a folders called "Inspirational Flowers"